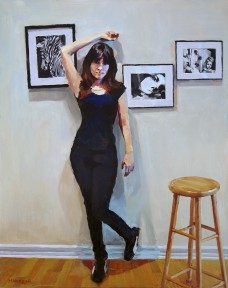 Valaree modeled for me a while ago in Chicago for a series of short poses and one long pose. Luckily, I took some photographs to that I could paint this more involved piece several weeks later.

This 16×20 oil painting depicts Valaree amongst several pieces of art that were being displayed in a gallery. Her posture is relaxed with her right arm resting atop her head, and she is holding her weight on right leg. Her dark clothing against the light background shows off the curves of her silhouette very nicely, and the multiple light shadows cast from the intricate lighting creates a wonderful nuance and subtlety which softens the otherwise stark contrast of her figure.
Each photograph mounted on the gallery wall is meticulously rendered down to the subtle shadows, the glass reflections, and the slight skew of the hanging. The Wooden stool serves as a prop to balance the composition as well as depict the spontaneity of the scene. The warm hardwood floors and wooden stool plays off the cooler tints in the background and artwork, and this is replicated in the colors used to paint Valaree's skin-tones.
This last photo shows Valaree along with the drawing I gave her at the session. I really appreciated having her model for me, and she was very creative and natural in the way she positioned her body.