I exhibited two artworks at the Starline Gallery's Grand Finale Masquerade Ball in Late October, which wraps up their 2013 exhibition lineup, and I am proud to announce that I won an honorable mention in the show. 2 of my works were accepted, a portrait in soft pastels entitled "Jessica" and the award winner a figurative study done in soft pastel entitled "Kay".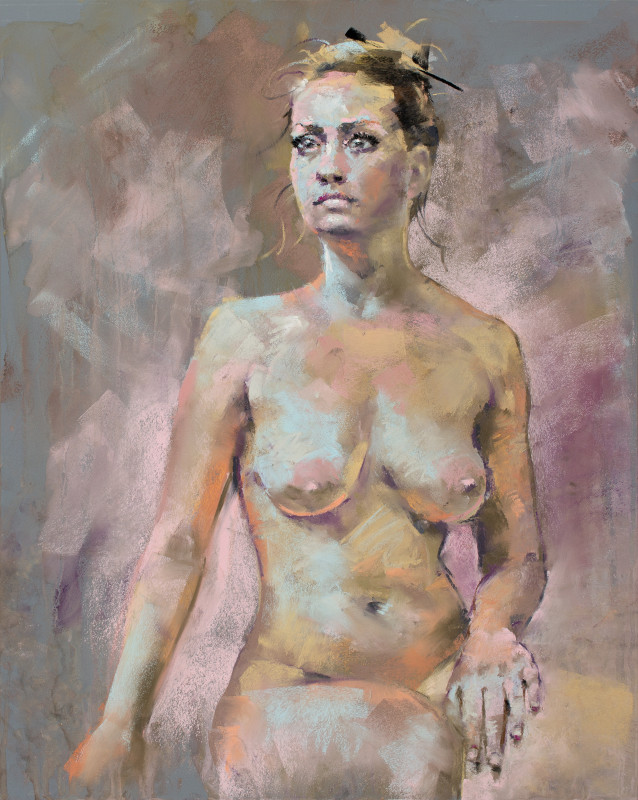 "Kay" is an alla prima painting creating using soft pastels on board. It was painted at the Saturday morning long pose session at the Palette and Chisel in Chicago. The light in the room was an interesting detail when creating this piece. The was a mix of warm and cool light sources, although it leaned mostly towards the cool side. Where the light was warmer I used pink, tan, orange, and mauve; and likewise where the light was cooler blues and violets were used. This in a way creates competition between the warm and cool hues for the viewer's attention, and the unexpected places each shows up, gives the painting a lot of interest. This piece was made with a smaller number of pastels, a dozen or so, mostly illustrates how I perceive and interpret the light and color of my subject.
"Jessica" is another alla prima pastel painting done in one sitting within 2 1/2 hours. The challenge of making this portrait was two-fold, within a short timeframe, I had to make a portrait that looked like Jessica, and I also had to render an intricate lace pattern and fold in her clothing. I worked on this piece from the face down, and then tied in elements of the clothing into the portrait in order to give the piece a unified feel. The portrait doesn't push the use of hue too much and it largely uses natural looking colors. But it does have an interesting interplay of different lines and textures that range from vague cloudy areas to linear contour qualities and also sections that use bold, broad strokes.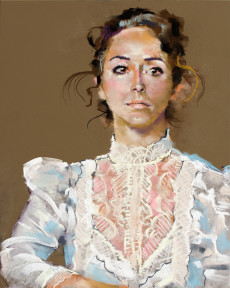 The painting of Jessica largely exhibits how to solve visual challenges under a constrained time period. Not having the luxury of working from really forces me to figure out ways to describe what I see in quick and succinct ways. In this case the challenge was rendering the lace and white cloth of Jessica's blouse, and also tying in the portrait portion together with similar line qualities as the shirt.
The Starline Gallery is located in Harvard, Illinois and draws hundreds of art enthusiasts, artists, and collectors to each of their 4th Friday Art Exhibits.