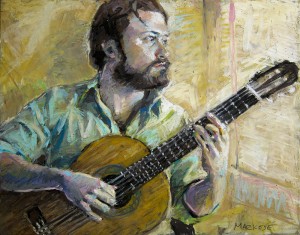 The Classical Guitarist, a portrait painted in Barrington, Illinois.
The Classical Guitarist, 11×14, Oil Pastel on Board, 3/8/2012
This is a portrait of an old friend and former band-mate, Michael Herndon. He's an extremely talented musician that I went to see at a Ambrosia's bakery in Barrington, Illinois. The piece is done in oil pastel in a very impressionistic style that's reminiscent of a Degas. Of particular interest to me is how the nicely the oil pastel rendered the wood grain on the top of the guitar, the cool hues used in the highlights on the skin, and how direct the reflective highlights are rendered on the forearms. Although oil pastels are difficult with small details, I am pleased with how the hands and details of the guitar turned out.
This piece was a recent foray into the world of oil pastels that I purchased from Cheap Joe's art supplies.