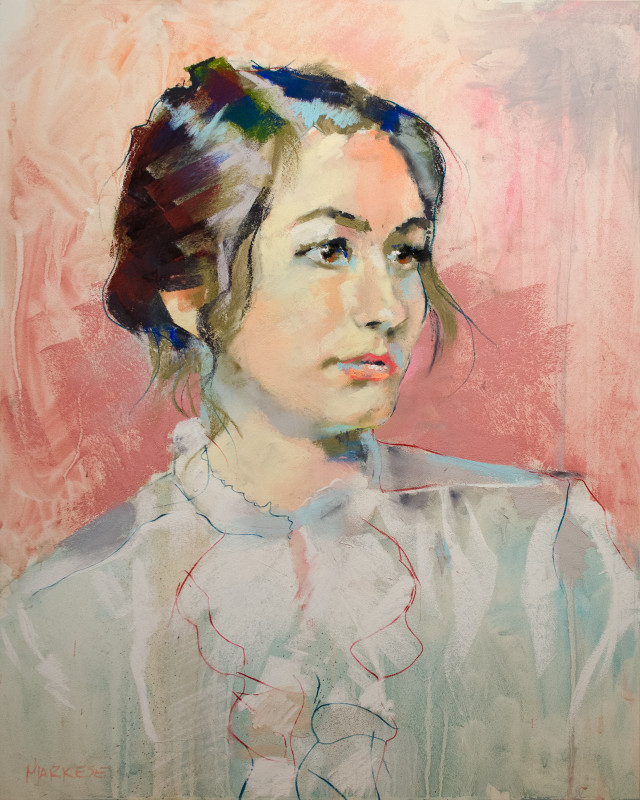 The Pastel Society of the Southwest Held the opening reception and award ceremony this past weekend, and I am proud to announce that the pastel portrait I submitted "Vlk" was selected for the Portrait/Figure Award!
"Vlk" is an alla prima (all at once) 16×20 soft pastel portrait that was done at a short 2.5 hour session and features a beautiful young woman named Allie Vlk. I used a slightly expanded palette for this piece which incorporated some interesting colors in the non dominant parts of the painting. There are blues and greens in the strands of her hair, and I used some interesting hues in the line work of Allie's blouse. Adding fine lines in the last stages of my pastel work has been something that I have experimented with for quite sometime. It is an example of a method of working gradually from broad general shapes and completing a piece with finer details at the end.
Another technique that I have been using lately is the use of water and bristle brushes to move my pastels around on the board. I made a switch form paper based substrates to coated masonite boards about a year ago, and these boards (Ampersand Pastelbord) have allowed me to expand the techniques I used to apply pastel to surface. Having a substrate that is resistant to water allows me to achieve very interesting watery effects by applying pastels onto wet surfaces and allowing the water to bleed and blend the medium. The results of these techniques can be seen in the background of this piece and also the "underpainting" of Allie's blouse. I typically use these watery techniques at the beginning and mid stages of a pastel painting when I am working out the foundations of the elements. An advantage of doing this early is that the water forces the pigments deeper into the substrate allowing an easier application of subsequent layers. It's the equivalent of rubbing in a layer of pastels, but has the advantage of achieving more organic and lively results.
The Pastel Society of the Southwest is located in the American Southwest and holds an annual exhibition displaying the finest pastel art. The exhibit will be displayed for November 4th until November 30th, 2013 at the Convention and Visitors Bureau of Grapevine, TX.
Convention and Visitors Bureau of Grapevine, TX
636 S. Main Street
Grapevine, TX 76051