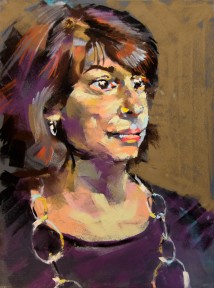 Kristi modeled for one of my drawing groups out in the Chicago suburbs, and I did a pastel portrait of her on a 12×16 Ampersand Pastelbord using various brands of Pastels (Rembrandt, Blick, and Daler Rowney). One thing I am very satisfied with is the contrast of hues used in the various tones. The highlights use high-key peach, yellow, and blue hues that help differentiate the different light sources. The midtones are a blend of a tan and violet, and the shades are a mix dark brown, violet, and black. Here and there I used punctuations of magenta and red.

The portrait of Kristi was done during a live 3 hour session and shows her looking contemplatively in the distance. Her full black hair has multidimensional highlights rendered in various hues, and she is wearing a plain black blouse with a long silver linked necklace. The lamps glimmer off her silver earrings and the light slides through each silver stranded loop.
Kristi was a very steady model, and it was a pleasure for me to make this portrait of her.