Portrait of Kay, 16×20, Soft Pastel on Board, 9/3/2012
Kay, 12×16, Soft Pastel on Board, 9/3/2012
At the 2012 Palette and Chisel Labor Day Marathon we did 2 long poses of a young blonde model name Kay, and she did some difficult poses considering the length of the sitting.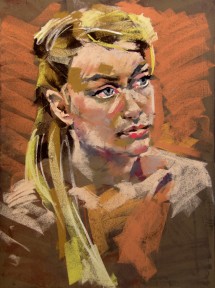 For the first 2 hour sitting I did a portrait in mostly natural hues. There a few areas of saturated pink and some violet in the shadows, but the interesting thing in this portrait is the chunky stroke work in the cheeks, the broad swaths rendering the hair, and the gestural marks in the shoulders and torso that are replicated in the background. The portrait shows off Kay's lovely face and shoulders. Her blonde locks lightly touch her brow and drape across her collarbone. She's wearing a content expression as she looks off into the distance.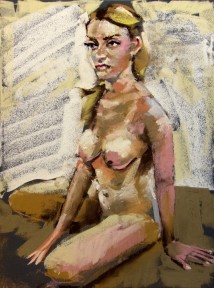 For the second 1 1/2 hour sitting I used the same color palette but added a bit more rosy pink in her skin tones. Her pose is much more dramatic, and she has a more intense expression on her face. The work depicts Kay sitting with one leg under tucked under and the other off to the side. Her hands are placed on either side and her posture is straight and attentive. Her head is slightly tilted and she has a very intense scowl.