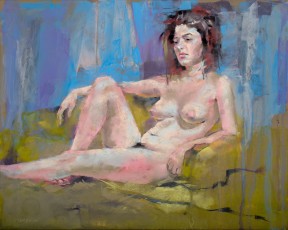 The Absinthe Show
Friday April 5th 2013 6pm – 10pm
Artbar
located at Two Brothers Roundhouse
205 North Broadway
Aurora, IL 60506
(630) 264-2739
Artbar is holding a one day show "Absinthe Show" at the Two Brothers Roundhouse Brewpub. Enjoy Two Brother's acclaimed craft beer while taking in the spectacle of the Absinthe art exhibit. I will be showing several pastel paintings and acrylics at the show and will for the first time have prints available as well.
The Absinthe Show is inspired by the mysterious green sprit, Absinthe, and the "Moulin Rouge" aesthetic in general. The show takes place April 5, 2013, from 6 pm to 10pm, at the Two Brother's Roundhouse, Aurora, IL 60505.
A notable new pastel figurative painting will be displayed there. It features a lovely model named Katya, reclined on several sheets of appropriately green cloth. Her surroundings drip with psychedelic flows and undulations which was achieved with water and brush techniques on the chalk pastels. Katya was painted at the Palette and Chisel in Chicago, Illinois at an open figure drawing session. See Katya and many other works Friday Night at the Two Brothers Roundhouse in The Absinthe Show.