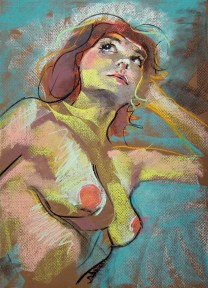 Sadie modeled for us at Platform Studios in Chicago Illinois at several of their weeknight drawing sessions. On some days I draw using an array of soft pastels, and on others I keep it simple with a couple of pieces of black and white conté. Here are examples of each.
The first one is dramatically rendered using saturated hues and expressive strokes using the side of the pastel. I used light blues, pinks, and light yellow-green to render the highlight areas. Blues and a muted violet are depicted in the shadows and in several places I draw the linear contours with various colors of pastel. The pose was a foreshortened reclining pose where her legs were pointed in my direction. I chose to draw the upper part of her torso from below her breasts to the top of her head. The majority of her left hand is hidden behind her head and hair, and her other arm is completely out of the composition. It was probably a 20 to 30 minute pose.
The second drawing is black and white conté on a brown paper. It shows Sadie's bust while she is posed sitting. She is looking off to the viewers right with the light coming from her right side (the viewer's left). Her left are is stretched over the back of the chair and goes out of the composition, and her other arm falls to the side and out of the composition as well.
I hope you enjoyed these two drawings. 🙂