Various Studies of Bella, Conté on Paper, 9/3/2012
At the 2012 Palette and Chisel Labor Day Marathon we did a series of 1 – 25 minute figure studies of an elegant model named Bella. Showcased here are 3 of the longer poses done in Conté on a textured paper.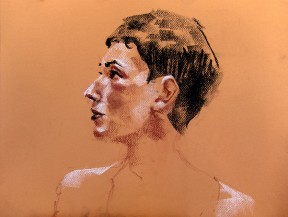 The first drawing is the last pose Bella sat for us, and it shows the profile of her face looking upwards towards the light source. It was rendered using black, white, and earth colored crayons on an orange paper. She has a short pixie cut hairstyle that is drawn in black. The light glances her brow, nose, cheeks, and shoulders which are drawn with the white crayon. The midtowns come through the paper ground and are rendered using the earth toned crayon.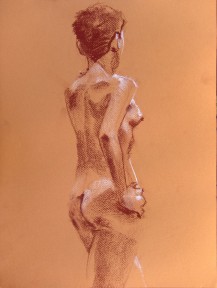 The second drawing features Bella's slender figure and the modeling of her backside and was creating using the earth and white Conté crayons. She has her right hand on her hip while her left arm is almost entirely hidden from view except for a small portion of her fingertips peaking out over her shoulder. The light dances on her chest and exposed breast and falls gently on her thigh.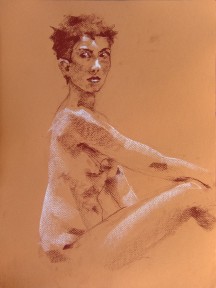 The final drawing was the shortest of the three poses (15 minutes) and shows Bella's elegant torso and a large portion of her right leg. The drawing is done with earth and white crayons on orange paper. Bella is sitting on the ground looking over her right shoulder and her right arm is extended over her right knee. The light falls gracefully over her shoulders, back, and thigh. Her stomach and breasts are rendered with midtown and shadow values using the earth crayon. Her eyes glance far to her right and the light brightly twinkles in her irises.