A Portrait in Highland Park, Illinois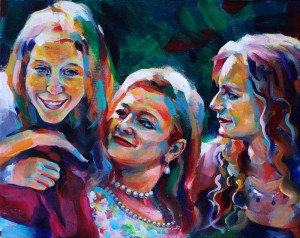 Here is a wonderful portrait I did for a family in Highland Park, Illinois. I particularly appreciate how the lighter blue tints contrast with the yellowish orange ones in the flesh tones of the faces. There is a sort of calming interaction that exists between them that is unexpected as a color choice, but they also blend together in a way that suggests a new hue.
The lively brushwork in the hair of the eldest daughter on the right dances around the frame of her profile and a visual loop is completed by the sapphire necklace the gently dangles from her neck. The eye bounces over to the Mother in the center of the composition and through to the lovingly gesture she give her young daughter who gazes at the viewer with an innocent smile.