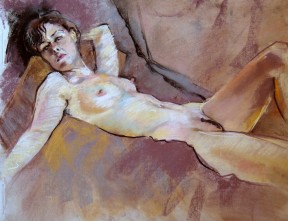 April 13th & 14th
Gallery Provocateur
1621 N. Kedzie Blvd
Chicago, Illinois
Gallery Provocateur in Chicago, Illinois is hosting the erotic art show, Dirty Show Chicago, Saturday night April 13th and Sunday April 14th for daytime viewing.
The mission of the Dirty Show is to promote and propagate erotic art forms through art exhibitions, installations, and events. I will be featuring two figurative nude paintings that have a more erotic feel to them than most of my paintings. At times a pose may be a bit more risqué and suggestive, and I think that venues like this are perfect for these kinds of pieces. I find it difficult to show these works at community art venues, craft fairs, and more conservative art shows for fear of shocking parents and their poor children. Erotic art has an alluring beauty different from the demure poses that are appropriate for the general public, and I appreciate having shows like this to display this side of my portfolio.
"The Dirty Show, one of the world's largest and best attended Erotic Art events which has left an indelible cultural mark (hickey?) on the art experience in Detroit for 14 years and counting, comes to Chicago with some exciting new twists!"
Gallery Provocateur is located in Chicago's Humboldt Park neighborhood, and has been the recipient of Chicago Reader's "Best of Award" for the art gallery category in 2011 and 2012.