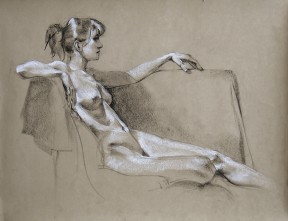 Jordan Reclined, is a 45 minute study that was sold at the Beyond the Coyote show. It features a wonderfully talented model, Jordan, sitting in a makeshift chaise with her left hand extended out  in front of her and her right hand resting on the back of the chair. her face is in profile and her bangs hang slightly over her eyes. The light is falling from behind and over her creating dramatic shadows over her face and torso.
The second drawing was actually given to the Jordan because she like it so much. A lot of my drawings are expensive to frame and end up sitting in a drawer for an indefinite length of time, so sometimes, I'll give a nice drawing to the model. This drawing has some nice lost and found edges along the profile of her face and her upper torso as well as some interesting contours rendered in her right hand.  The light shadows in the skin are nice and subtle with deeper shadows more dramatic shadows in her hair and the chair she sits upon.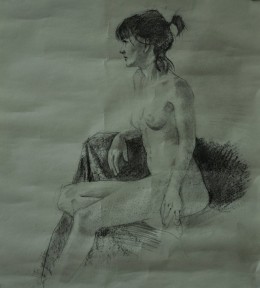 Sleeping Jordan is another conté drawing done on the rough side of a Canson Mi Tintes sheet of paper. I am not particularly fond of the rough side of Mi Tintes, but there was another drawing on the smooth side that didn't work out and I am not one to waste a sheet of paper. The problem, though, is how irregular the conté lays over the rough surface. If I was using a softer dry medium like soft pastels, they would more readily push into the grooves of the paper, but since conté is harder, it doesn't lay down as nicely. Nonetheless, for a short pose 30 to 45 minute drawing, it turned out okay; it just would have been better on the other side of the sheet.