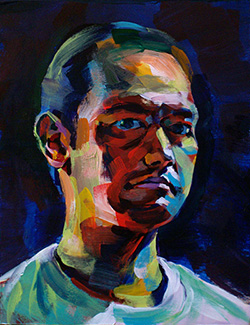 John Markese is a Chicago area artist that specializes in figurative art and portraiture in a variety of mediums, but most notably oil paint and pastels. His style is spontaneous, filled with lively brushwork and agile mark making. The palette John uses punctuates these qualities in his marks and juxtaposes unusual hues to visually describe the human form in interesting ways. He mainly paints from live models and utilizes the time constraints of painting from life to emphasize the intensity of his style.
His paintings feature human figures whose bodies are boldly decorated with hot pink, bright red, emerald green, or light blue brush strokes that conflict with how the light is reflecting off the contours. John's paintings incorporate inspiration from visceral interpretation of perceptions, and almost subconsciously utilize Gestalt principles to group individual marks and hues into a greater object. Stylistically, subjects are painted in a loose and spontaneous style that eschews blended gradients in favor of lively and expressive marks. Many of the paintings have wash backgrounds that create an undefined or even undulating sense of space. Some figures may have an aura that defines the figure from the ground, but often becomes an object unto itself.
John was born and raised in the Chicago area, and spent his youth in the Chicagoland area where he still resides. He has been studying art since he was a young child and received a Bachelor of Fine Arts from the University of Illinois in 2001.